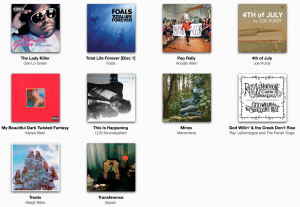 What a year for music. Seriously, this year has been just a whopper for music, something that I could not have even tried to predict. When 2010 was just peaking it's head around the corner I was honestly a little bummed. I looked at the music that had come out in 2009 and was glum, believing it would be impossible for 2010 to come in any way close to the music of 2009.
Boy, was I wrong.
Actually let's take that 'boy' exclamation up a notch.
Man, was I wrong. And in so many ways that I still don't understand...
So I've looked at all the music I've listened to in 2010 and have humbly selected my Top 10 Albums along with the Stand Out Track from that album.
You probably won't agree with any of my choices past my number 1 pick, but that's okay. I'm the one doing the writing and you're the one doing the reading. Unless you add a comment refuting my opinion. But you wouldn't do that, would you?
Read on for my Top 10 Albums of 2010!
P.S: If you click on any of the album links and buy the record I get a little affiliate money from Amazon. Proper warning and hoping for help! Thanks!
Top 10 Albums of 2010
1. Kanye West -
My Beautiful Dark And Twisted Fantasy
Stand Out Track: Lost In The World Creating a good bit of distance between himself and all other artists of 2010, Kanye West's My Beautiful Dark Twisted Fantasy has found itself sitting securely as my number one album of the year. I'm far from original in that decision, with many other bloggers and critics deciding the same, however you cannot beat the absolute genius of this record. Say what you want about Kanye West the celebrity - when it comes to music he is irreproachable.
Aside from these 10 stellar albums there have been a whole slew of albums released in 2010 that deserve at least some mention of their existence. You know what this calls for don't you?
Honorable Mentions
J. Cole - Friday Night Lights The Tallest Man on Earth - The Wild Hunt Two Door Cinema Club - Tourist History Vampire Weekend - Contra The Walkmen - Lisben A Weather - Everyday Balloons Yeasayer - Odd Blood Gorillaz - Plastic Beach Arcade Fire - The Suburbs Atmosphere - To All My Friends EP The Black Keys - Brothers Caribou - Swim
So there you have it: the Top 10 Albums of 2010. This top 10 list really puts the 10 in 2010. Pschaw!
And now onto 2011! What we might see I can only dream! Let's get going!!